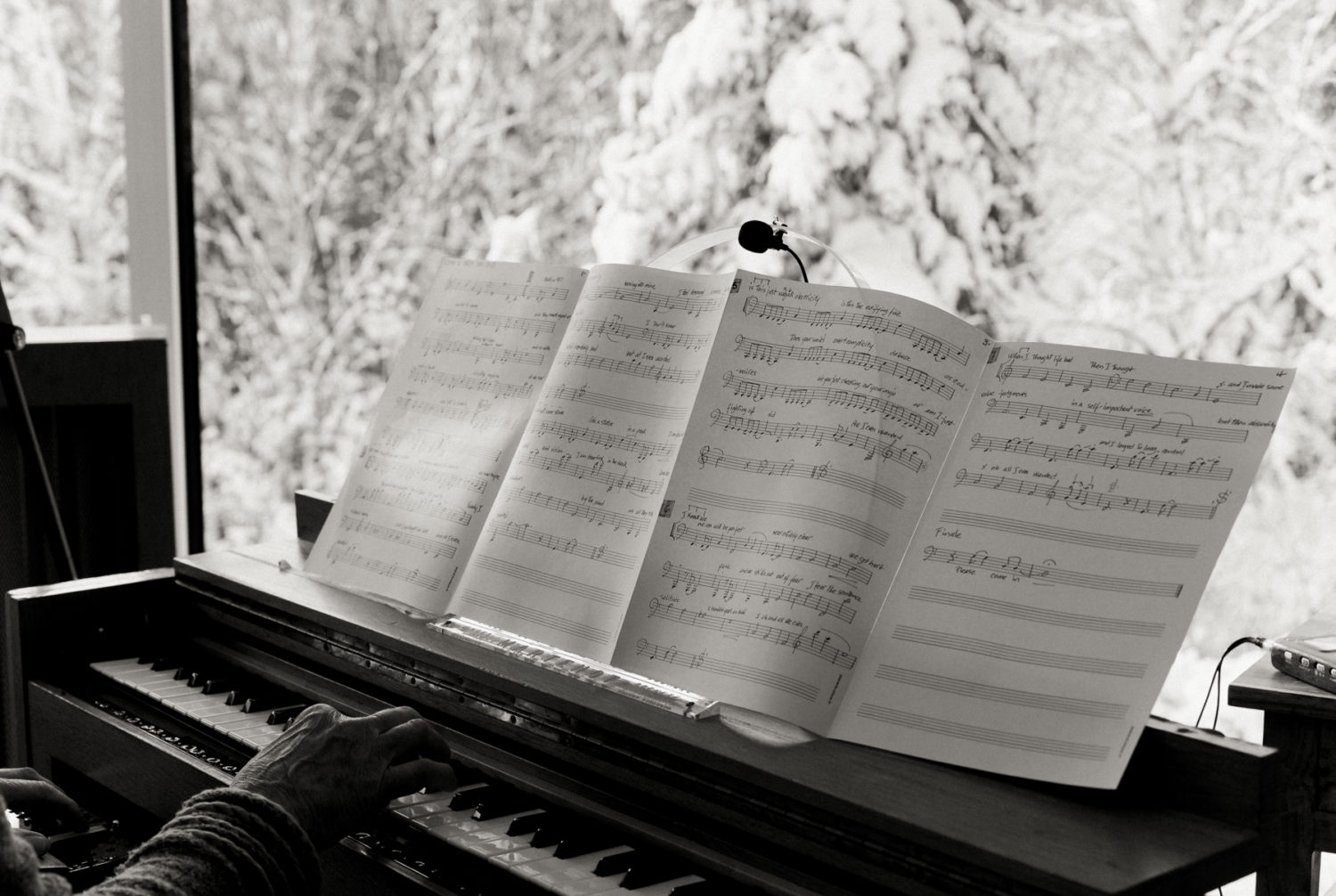 Photo credit: Magdalena Olszanowski
By David Madden
This month's In Focus piece is an update on the ACT-supported Age/ing Waves project. Ageing Waves is an ongoing feminist micro historiography that attends to the specialist players of the ondes Martenot – an electronic musical instrument that made its public premiere in 1928 at the Paris Opera – with a specific focus on the ondists who currently reside in Québec, and who continue to play and perform with the instrument. Marie Bernard, Suzanne Binet-Audet and Geneviève Grenier are older women with international careers in music spanning forty to fifty years, and are members of the Ensemble D'Ondes De Montréal. I have been collaborating with them intermittently for nearly ten years, sometimes with two to three years between each encounter, through a series of semi-structured interviews, music recording sessions, performances and social gatherings. I am also a fan of their work and musicianship.  
The Age/ing Waves project centres on the following key questions, all of which are addressed in a chapter of Line Grenier and Fannie Valois-Nadeau's forthcoming edited collection, The Cultural Mediations of Memory and Ageing. How do affective relationships with musical instruments change through the passage of time? How do musical performers and instruments grow old together? While shifting the focus of typical patrilineal accounts of music and technology, the primary objective is to consider how histories of older women musicians contribute to our understandings of ageing studies and music. In what follows, I discuss some of the collaborative research-creation outputs and processes that have emerged from the project to date and, in particular, a three-minute audio/visual (A/V) 'project trailer' that was recently screened at Age 3.0, at Concordia University. The piece weaves together musical recordings, photography, and improvised A/V editing techniques, while incorporating contributions from all of the project's collaborators. But first, I begin with a brief history of the instrument.
"While shifting the focus of typical patrilineal accounts of music and technology, the primary objective is to consider how histories of older women musicians contribute to our understandings of ageing studies and music."
The ondes Martenot is a monophonic electronic musical instrument that uses radio technology (two heterodyning radio waves) to produce its many sounds. After the ondes Martenot's public debut in Paris, the instrument's inventor, former WWI radiotelegraphic soldier, musician and pedagogue Maurice Martenot (1898-1980), took it on a limited world tour, making it as far as Japan in the early 1930s. The instrument's popularity with composers, performers, music conservatories and audiences steadily increased throughout Western Europe until the initial post-WWII period. For instance, the well-known French composer and pedagogue Olivier Messiaen premiered Fete des belles eaux (1937), which featured six ondes Martenots, at the 1937 Paris Exposition. However, in the 1940s and '50s many of Western Europe's high-modernist musical elites (including IRCAM's future founder, Pierre Boulez) deemed the instrument too expressive and vulgar for compositional purposes, and, as result, many influential composers stopped using the instrument in their musical works (including the aforementioned Messiaen). From the 1950s onward, a group of devoted ondists continued studying and performing with the instrument (notably in France and in Canada), and are primarily responsible for the renewed attention it has received from universities, museums, filmmakers, and various popular music scenes in the last twenty years as one of the most important musical instruments of the twentieth century. Yet, very little is known of their careers in music or their musical practices.       
In the spring of 2016, I received pilot project funding from ACT in order to conduct and record a series of interviews and musical works with the ondists involved in the project. Unfortunately Binet-Audet was not available to participate in the interviews and recording sessions; however, Grenier and Bernard committed to day-long production engagements.  As part of the funding, I was able to include the participation of two members of ACT in Montreal to assist in documenting and recording the activities: Magdalena Olszanowski, a PhD candidate in the Communication Studies Department at Concordia University with extensive image-making experience, and Dr. Samuel Thulin, an affiliated postdoctoral fellow who specializes in mobile music-making and media production. After almost seven months of emails and planning, we established a production schedule that was carried out in November and December of 2016, between Concordia University's downtown Montreal facilities and Marie Bernard's home in Charlevoix, QC.
The first session involved interviewing and recording Grenier playing the ondes Martenot in Montreal, with Thulin acting as sound engineer and recordist, and with Olszanowski documenting the process through photography and video. It is also worth mentioning that ACT Associate Director Constance Lafontaine was present for most of the day to conduct the semi-structured interview with Grenier in French. I facilitated the day's activities and supported everyone through their various encounters. Thulin and Grenier made a special connection while recording; in part, because we made the decision to record her playing the instrument with two stereo microphones, which allowed her to listen to the instrument in the open space of the recording room, rather than through direct input (DI) recording and headphones. This is how Thulin describes the process:
I got the impression that Geneviève has recorded in situations where the assumed technical expertise of engineers has gotten in the way of recording her performances in a way that she finds satisfactory – for instance, engineers insisting on recording the instrument direct. I have to admit, I was flattered that she was so pleased with the results of the way I recorded her instrument (two microphones close to the speaker), and that she told me she felt like it really sounded the way she heard it while she performed.
Olszanowski, Thulin and I then traveled to Charlevoix in December to spend a full day with Bernard at her beautiful home that she shares with her dog, a bouvier de flandres. In addition to conducting a semi-structured interview where we discussed her career as a musician, we recorded her playing some of her favourite pieces composed for ondes Martenot, including 'Begonia Rex' (1977), one of her favourite contemporary compositions, written by the Canadian composer Richard Boucher. She also performed an interpretation of Joni Mitchell's 'Come in from the Cold' (1991), and a new original musical work for ondes Martenot and voice. Bernard was in the process of composing a series of works for a solo performance in May, 2017, using just voice and ondes Martenot.
Upon returning to Montreal from our visit with Bernard, the sounds and images collected through these engagements were brought together to form the A/V piece, Age/ing Waves, which was edited using a variety of audio and visual improvisatory editing techniques. The piece gives a three-minute 'snapshot' into an A/V performance that is planned for the summer of 2018.
David Madden is an artist and Postdoctoral Fellow with Ageing, Communication, Technologies at Concordia University.
Credits:
David Madden: Project Director
Marie Bernard, Suzanne Binet-Audet, Geneviève Grenier: Featured ondists
Magdalena Olszanowski: Photography & Video Editing
Samuel Thulin: Sound Engineer