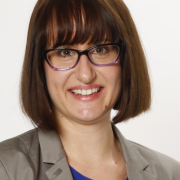 On Thursday, April 21st, ACT visiting scholar Barbara Ratzenböck will present her research, which explores older women's media experiences and their relationships to the media devices in their homes (see below for more detail). Join us at 1:00 pm in the Samuel Bronfman (SB) Building at 1590 Dr. Penfield (Atrium).
Talking and Walking Together in the Home: Painting a Fuller Picture of Older Women's Media Experiences
My research employs a method of walking in homes. As I walk with study participants – women living in the Austrian province of Styria aged 60+ – I ask them about their media experiences and the devices in their homes. This talk will discuss what I have discovered using this particular methodology. For example, how does the home as a place inform the interview? How are privacy and trust being negotiated as researcher and interviewee move through the private rooms of the interviewees? How does interaction with the media objects of the home allow for different ways of expressing experiences? How does walking-as-an-action shape the discussion?
Drawing on examples from the walking interview material, the talk will examine these question and ultimately ask how walking interviews conducted at home can contribute to a richer understanding of older women's multi-faceted use of information and communication technologies (ICTs). This research belongs to the "Cultural Narratives of Age and Aging" project, which is supported by funds from Oesterreichische Nationalbank (Oesterreichische Nationalbank, Anniversary Fund, project number: 15849).
Barbara Ratzenböck studied sociology at the University of Graz and at Hendrix College, Arkansas. Currently, she is conducting research as a Ph.D. candidate at the Center for Inter-American Studies of the University of Graz. Her PhD project focuses on women aged 60+ and their use of information and communication technologies. Recently, she has co-edited with Ulla Kriebernegg and Roberta Maierhofer the fifth volume of the Aging Studies series "Alive and Kicking at All Ages. Cultural Constructions of Health and Life Course Identity" (transcript 2014). Since October 2015, she has also been serving as Executive Director of the European Network in Aging Studies (ENAS). At present, she is a visiting Ph.D. researcher with the Ageing+Communication+Technologies (ACT) Project at Concordia University.