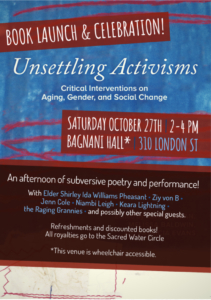 Unsettling Activisms: Critical Interventions on Aging, Gender, and Social Change – (co-edited by May Chazan, Melissa Baldwin and Patricia Evans), is now available!
Unsettling Activisms has been in the works since late 2015. The project has entailed ongoing storytelling and relationship-building, poetry, life writing, orality, photography, performance, and research – all with the aim of challenging and extending dominant ways of understanding both activisms and aging.
BOOK LAUNCH & CELEBRATION:
Nogojiwanong (Peterborough)
October 27th from 2-4pm
in Bagnani Hall
(Traill College, 310 London St, Peterborough, Ontario).
All are welcome!
All are welcome to join an afternoon of subversive poetry and performance, and delicious snacks.