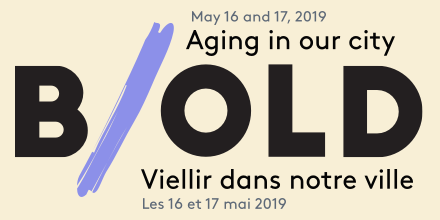 B/OLD: Aging in our city is a free and bilingual two-day event taking place in Montreal, at Concordia University. It invites citizens, researchers, artists, policy makers and activists to consider what it means to grow older together in the city.
From 'age friendly cities', to 'smart cities' and 'sustainable cities', how we live together in urban spaces is on the public agenda. Yet, questions of innovation and transformation too often focus on young people.
As we imagine and create the cities of tomorrow, what can we do to include the experiences of older people in the conversations we are having today? How do we counter forces of exclusion in later life to create cities that are more just and inclusive?
B/OLD invites intergenerational exchanges on topics such as housing, public arts, inclusion, digital culture and creative aging. Citizens of all ages are invited to participate in interactive activities, including panels, art exhibits and workshops.
Find more details at www.b-old.ca.