By Myriam Lebel-Bernier & Ashley McAskill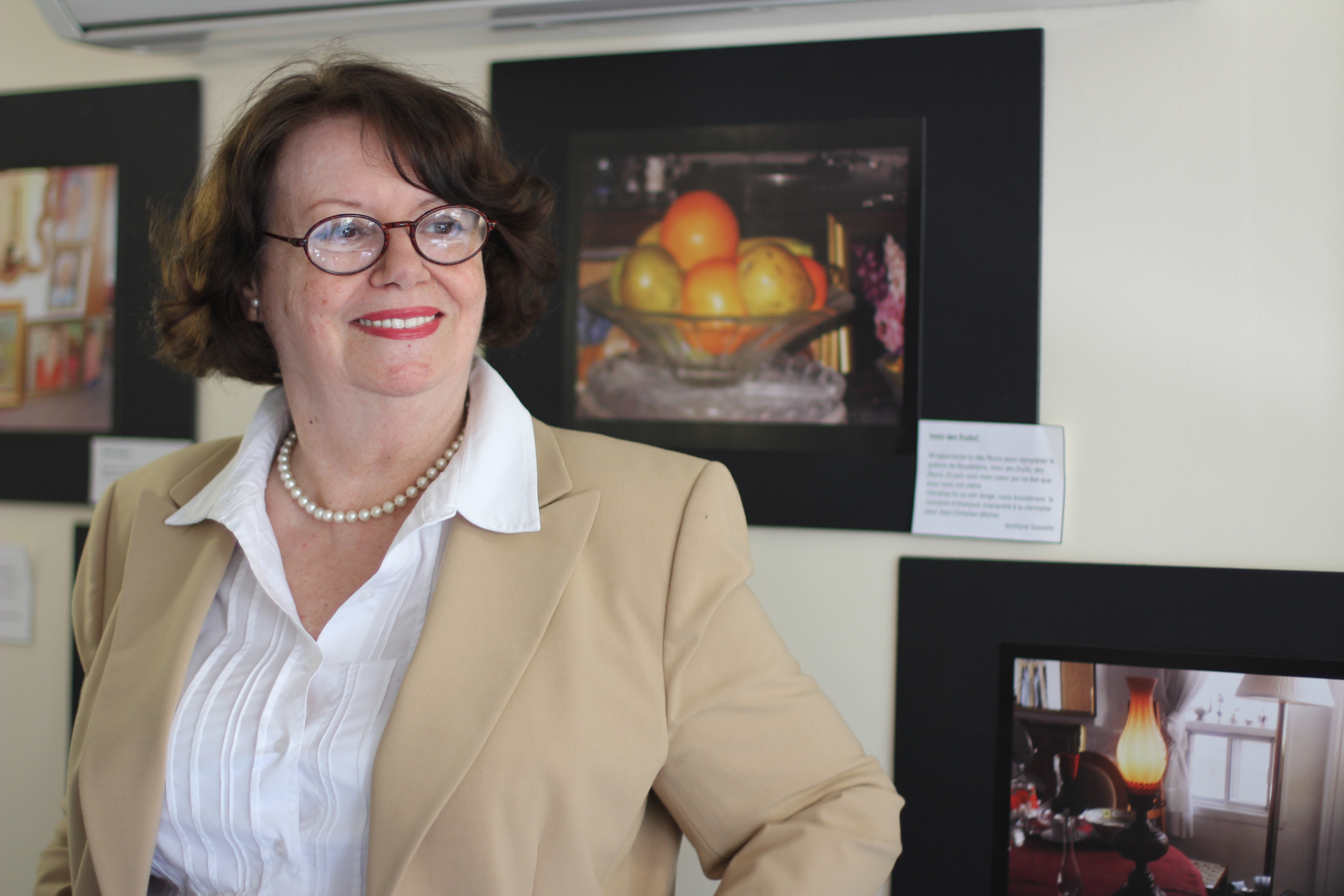 Jocelyn at the Fragment of Life / Fragments de vie vernissage, Hillside, May 2016
INTRODUCTION
On May 19th, 2016, Montreal residents Rosemary, Daren, Jocelyn and Huguette, were all dressed up for the opening of their photography exhibition, "Fragment de Vie/Fragment of Life." The excitement was palpable as they mounted their photographs on the walls of their community space at the Hillside Residence, a low income residency (HLM) for seniors, where all four women live.
The "Fragment de Vie/Fragment of Life" exhibit was the final result of a three-month introductory digital photography workshop facilitated by Myriam Lebel-Bernier and Ashley McAskill, two graduate students and ACT research assistants from Concordia University. Since February, Myriam co-facilitated the workshops with Fiona Smith, an outreach worker from the Contactivity Centre (an ACT community partner). Ashley entered the project during its final month. The bi-weekly, two hour workshop sessions were held at the Hillside residence. Over the course of our time together, our sessions transformed from learning about digital photography to growing closer as a group, as we shared  life stories. As facilitators we had grown close to the participants and we wanted to ensure that Rosemary, Daren, Jocelyn and Huguette always felt respected and artistically appreciated throughout the entire workshop process. This was particularly important for the final exhibition, knowing they were simultaneously excited and nervous to show their photos to the public.
The workshops and exhibition were a result of a collaboration between ACT and the Montreal Contactivity Centre. Both ACT and the Contactivity Centre are invested in developing community-based projects with senior citizens. The Contactivity Centre's mission is to provide a welcoming, caring, and safe place for autonomous seniors (60+) and it's a place that fosters a sense of community and social engagement. Together, ACT and Contactivity are focused on developing intergenerational-mentorship workshops for elders to help them learn about and get acquainted with new technologies, such as digital photography and the Internet. The most meaningful element of this project is its social element: people of different generations coming together to learn from one another.
What makes this project the most meaningful is the social element of it — people of different generations coming together to learn from one another.
This kind of a project requires a certain level of trust and vulnerability from everyone involved. Fiona Smith, our Contactivity collaborator, helped foster this trust through her ability to  gauge our group and understand the individual needs of the participants. She had already established strong connections with the women from Hillside through previous workshop experiences. We, on the other hand, had only spent a short amount of time with the women. Working with Fiona allowed us, as the workshop facilitators, to understand what participants needed in order to create an accessible and ethical learning environment. Sometimes this meant re-teaching certain parts of the camera, providing one-on-one tutorials, or creating extra space to listen to each participant's concerns about her work. As facilitators, we also had to open up to the group about our own needs and uncertainties about some things. For example, because Ashley joined the project later than everyone else, she was nervous about whether or not the women would open up to her, considering they had already established such a closeness with Fiona and Myriam. The women were quick to welcome her with warm energy. This kind of consistent attentiveness is what really brought us together as a group, and in the end, led to the success of the workshops.
THE WORKSHOPS
Overall, on a more practical level, this digital photography workshops were developed through three main phases. The introductory phase allowed participants to become familiar with the camera and its main functions. Participants were encouraged to learn about their cameras through their own creative capabilities. While the goal was to learn how the camera functions, the participants acquired this knowledge through creative practice, rather than by studying the manual. Because we didn't establish a specific photographic style or technical level as the standard for the workshop, we were able to alleviate the pressure of placing expectations on the participants. This creative approach gave the participants an opportunity to learn and practice photography at a comfortable pace and through a technical style that was accessible to them.
MoiSongeur
The second phase focused on the artistic aspects of digital photography. Participants had the opportunity to learn creative concepts such as angles, composition, colour, and lighting. For this phase, the participants were invited to discuss the creative challenges they were having; for example, which circumstances require the use of a flash. Through this phase, participants began to reveal aspects of their personalities through their photography. For example, Daren, chose only to take pictures of places that held meaning to her while Rosemary chose to take mostly abstract pictures.
During the final phase, the group prepared and curated the final photography exhibition. The participants were asked to look at the group's photos and work together to find a common theme. Then, each participant was invited to choose between six and ten pictures for the exhibition and write a description and title to support each image. One of the most challenging but simultaneously fruitful parts of this phase was the participants' decisions around organizing the exhibit. This included who they should invite, how many people should attend the event, and where they should hold the exhibit. Considering that most of the women wanted the exhibit to be a private event, they decided to invite only close family and friends, community affiliates, and fellow Hillside residents. They decided to hold the event in the same room where we had spent so many hours together: the Hillside residence community room, a communal room that is accessible to all residents. The exhibit was an opportunity to use the room in a way it had never been used before. This part of the participants' engagement involved a lot of negotiations and discussions. Although tensions arose, the group was able to work through these issues in an honest and respectful manner — a result of the meaningful social rapport they they had built over the course of three months.  

THE EXHIBITION
Just before the event started, we walked around the space together and could not believe how much the photos changed the feeling of the community room. What was once a space filled with tables and chairs had been transformed into a professional-looking art gallery. Through their colour, the photos created a vibrant energy and an inviting environment. The women, beautifully dressed, marvelled at what they had accomplished. They were proud. This was most apparent when we took pictures of each of the women beside their photos. Daren looked up with joy and was eager to share with the guests the stories behind her pictures. Jocelyn, with style and a bit of sass, posed alongside her photos that were accompanied by poetic descriptions. Rosemary stood with pride and a bit of surprise of her final products, adoring the celebratory energy in the space. Finally, Huguette showed off her photos that magically captured a unique aesthetic she used with her secret technique.
By providing a positive and fun creative experience, all four women were able to learn a new artistic practice and surprise themselves with their technical know-how. We also learned how to teach digital technology practices to people who may be nervous or apprehensive at first. As facilitators, we would sincerely like to thank Daren, Huguette, Jocelyn, and Rosemary for their kindness throughout this learning experience. We would also like to thank Fiona Smith, our community outreach partner, for sharing her positive energy.