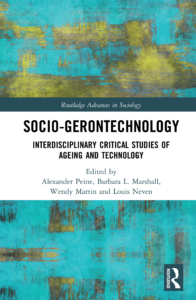 A series of different ACT members and friends were part of the edited collection Socio-Gerontechnology: Interdisciplinary Critical Studies of Ageing and Technology which came out on March 24, 2021. Excited about this work and what it means for researchers in Critical Age Studies, we sat down with one of the editors, Dr. Alexander Peine Associate Professor at Utrecht University, to get some inside details on the book project and the goals behind it.
The book comes out of a series of meetings and workshops that have been occurring on the edges of Science and Technology Studies (STS) and Critical Age Studies. As the title of the book suggests, Socio-gerontechnology introduces elements from the social sciences and humanities to researching ageing and technology relations.
As Dr. Peine explains: "we wanted to not counteract but refine gerontechnology — the traditional discipline that looks at technology and ageing, mostly from a technology push or technology centred perspective. We wanted to bring back the social sciences and humanities into the widespread concern for gerontechnology among academics and practitioners — the detailed, empirical research that looks at the muddled realities of everyday life when trying to grasp the mutual relevance that ageing and technology increasingly have for each other."
The term "muddled realities of everyday practice" is critical for how age and technology are theorized in the book. To help clarify, Peine points at two different trains of thought that guided the book's understanding of the term. First, borrowing from STS, it considers the role of technology as an actor in everyday relationships which changes landscapes of everyday practice. He explains that it "is something we bring out, to counterbalance the notion that technology is a cleancut intervention  into the lives of older people." Muddled realities are not limited to everyday lives but can consider the "machineries of policy making" or designing and engineering, too.
Unfortunately, many policy and technology discussions look at age quite negatively, so Socio-gerontechnology seeks to guide policy construction to be contingent and consider the specific interactions between later life, technology and policy decisions. Peine points out that, in "Socio-gerontechnology studies ageing-technology relations, not just in the everyday lives of people but also in backroom negotiations, policy making, design laboratories, and so forth."
Through this alternate perspective, Socio-gerontechnology considers relationships between technology and individual lives to help move beyond stereotypes that plague some research frames. A critical example is the need to push past the narrative of inevitability commonly tied to age. According to Peine, "Technological interventions are often presented as inevitable. Older people are framed as problems that need to be addressed, with tech being the solution. Therefore, through biomedical  perceptions of ageing, there is an argument that we need tech. This leads to legitimization for specific investments. Socio-greontechnology shows that this is not the case, Rather it sets the stage for technology  that can be more meaningful, appealing, or helpful."
All of this brings us to considering Socio-grontechnology as its own field, or at least an emerging collection of scholarship. When interviewing Peine, they discussed the growing amount of work that has created an underlying common ground from which they are proposing Socio-gerontechnology exists as a potential field. As Peine notes, most of that work is empirical which allows the "book to try and bring that together and engage these disciplines. One particular focus is the cross-pollination of Science and Technology Studies (STS) and critical Age Studies. The text provides a snapshot of an ongoing dialogue between these disciplines about ageing and technology relations, showing a common background and principles while demonstrating a way forward. There is a lot of empirical work, but there is a need to theorize that aging and technology nexus."
The book is taking the first step in constructing this new field of Socio-gerontechnology. It sits in relation to gerontechnology by, "providing narratives that are so much richer than compared to more medical framings or traditional gerontech framings that try to define what tech should be doing in the lives of people".  It argues that something "is fundamentally misconceived in many programs that connect technology with age". Today, "the book points to a dire need to reconsider old age policies as they increasingly become tech policies as well, and make them revolve around  the lived realities of older people".
ACT members are some of the critical voices in this text that are pointing to the need in re-evaluating how we study relationships between age and technology. The book's chapters provide theoretical, design, and policy discourse that fundamentally considers the muddled realities of ageing and technology. These are just some of the growing number of critical voices who are producing intelligent and rich studies which call for disciplinary recognition.
As an edited collection Peine considers it to be a passion project for everyone involved. The level of interest, dedication and commitment that contributors and editors had throughout the process not only made the overall process quite smooth, it alludes to the desire of scholars to push for this new academic field. Through its array of studies, the text shows growing cohesion in an understanding of Socio-gerontechnology and highlights it as an "academic field that deserves attention and engagement from other scholars, too."
You can check out the text in more detail here: https://www.taylorfrancis.com/books/edit/10.4324/9780429278266/socio-gerontechnology-alexander-peine-barbara-marshall-wendy-martin-louis-neven?refId=133c5de3-a6c7-4c13-b8d1-e8c3738d1790